October 3, 2023
Our Top Picks: Fun Family and Kids' Activities at Saadiyat Island Abu Dhabi 
Staying at Saadiyat Island for a few days or planning to drive down from Abu Dhabi or Dubai for a fun break? 
With plenty of family-oriented activities and attractions, the Island is a great place for a vacation with your loved ones. And if you're worried about keeping your mini-mes entertained, never fear. We've compiled a list of top kids' activities in Abu Dhabi that are sure to keep them happy and engaged throughout your stay. Consider it your handy guide to a stress-free vacation! 
Family Saturdays
Where: Jumeirah at Saadiyat Island Resort 
Spend the weekend with the whole family, even the pets, at the dog‑friendly Offside Saadiyat. 
A sports lovers' hangout, Offside is a laid back restaurant that turns into a doggy paradise on Saturdays, when children aged 5 to 12 years old and pets dine for free between 12:00PM ‑ 5:00PM. 
For bookings and inquiries, contact +971 2 811 4342 or email jsirestaurants@jumeirah.com.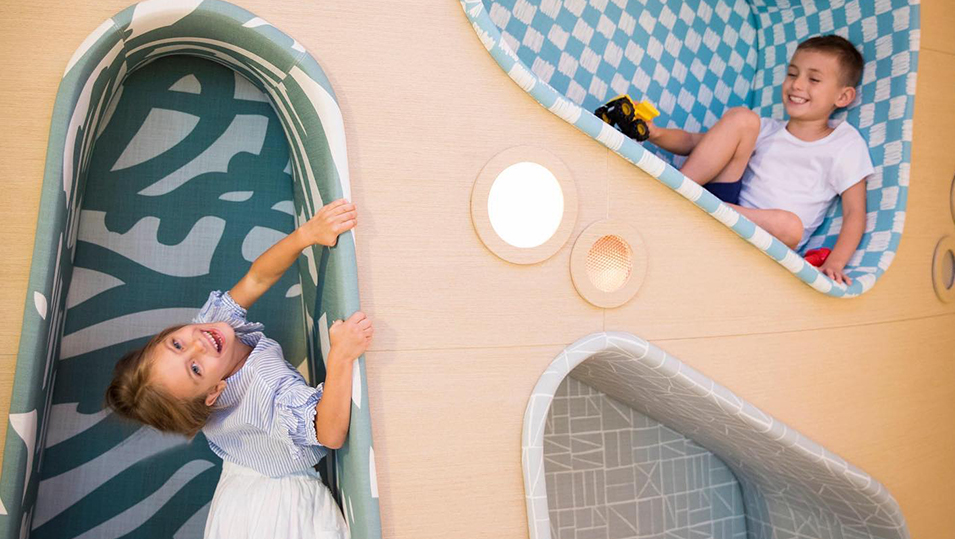 Kids and Teens Club 
Where: Jumeirah at Saadiyat Island Resort 
The Club offers a variety of things to do with kids in Abu Dhabi, be it arts and crafts or outdoor sports. Drop them off and have our qualified staff guide your children through a bunch of fun activities. 
For more information, please call +971 2 811 4368 or email jsileisure@jumeirah.com. 
Camp Hyatt 
Where: Park Hyatt Abu Dhabi Hotel and Villas 
This unique kids' play area in Abu Dhabi has got a lot to offer! Camp Hyatt is a space where children aged 5 to 12 years can play for free under supervision from 9:30AM ‑ 6:30PM daily. 
Here, your little ones can enjoy a wide range of indoor and outdoor activities, like painting and hopscotch, and amenities such as a jungle gym. 
Sandcastle Club
Where: St. Regis Saadiyat Island Resort 
Complimentary for guests aged 1 to 12 years old, the Sandcastle Club is a haven for kids to play and enjoy activities organised by staff members. They can join arts and crafts sessions, free‑play at the indoor area and have a go at gaming using the entertainment consoles. Outdoor amenities are also available, including a climbing wall and an outdoor kids' pool. 
Aladdin's Cave 
Where: Saadiyat Rotana Resort & Villas 
Little ones are guaranteed non‑stop entertainment at Aladdin's Cave, the Saadiyat Rotana Kids Club which is open daily from 10:00 AM ‑ 8:00 PM. It is equipped with a lazy river, splash pool, cinema zone, teen zone and a water slide, and is available for children aged 4 to 12 years.
Rixy Kids Club 
Where: Rixos Premium Saadiyat Island 
The Rixy Kids Club ensures an entertaining holiday for your little ones as it offers fun‑packed hangouts such as musical games, movie time, Rixy disco and special children's shows, all facilitated by the hotel's welcoming and experienced staff. 
Kids are also welcome to explore the outdoor amenities such as the water jungle gym by the kids' pool and coloured playground areas.
Petite Z and Water Park 
Where: Nurai Island 
Petite Z is Nurai Island's kids' club. It offers a full programme of entertainment for young guests from 9:00AM to 12:00PM and 1:00PM to 7:00PM on weekdays, and 9:00AM to 7:00PM on weekends. It is equipped with an arts and crafts room, game and book corner. 
The Water Park is one of the most fun family friendly parks in Abu Dhabi, featuring 4 slides, a water bucket and a splash pool. It offers a relaxation area with a snack corner where you and your little ones can enjoy home‑made ice cream and other different delights.
Make and Play
Where: Louvre Abu Dhabi 
Fun creative activities await young museum guests at the Make and Play space at the Louvre Abu Dhabi, open every Saturday and Sunday. Create unique pieces inspired by museum artworks with the help of museum educators who are on‑hand to support. 
Book a table at www.louvreabudhabi.ae and watch their creativity flourish. 
Art Studio
Where: Manarat Al Saadiyat 
The Art Studio at Manarat Al Saadiyat hosts a wide range of onsite workshops and art activities for children as young as 3 years. Among those offered are interactive storytelling sessions, sensorial arts activities, and workshops on various media such as clay and paint. 
For inquiries and registration, contact +971 2 657 5929 / +971 2 657 5807 or email masartstudio@dctabudhabi.ae 
Keeping your kid entertained could be child's play …
Clearly, whether it's quality time with pets, fun in the water, arts and crafts or simply testing out climbing walls and jungle gyms, there's no shortage of things to do with kids in Abu Dhabi's Saadiyat Island. 
We hope this list has helped with your never ending quest for ways to keep your kids entertained or for new places to visit in Abu Dhabi with your family. Let the fun begin!