October 3, 2023
Where to stay on Saadiyat Island: Best Hotels and Resorts
Winner of the Middle East's Leading Beach Destination at the World Travel Awards time after time, Saadiyat Island is a secluded paradise off the Abu Dhabi coast. Home to world class museums, protected dolphins and Hawksbill turtles and a whole lot more, this ecological and cultural paradise is also one of the best kept secrets in the region, and you get to discover it before the rest of the world does. 
The best way to experience everything that this unique destination has to offer is by staying on the Island itself. As a conscious choice, there are only a handful of hotels and resorts on the island – but they're all five-star rated. So without further ado, here's our list of the best hotels on Saadiyat Island – read on and find one that's perfect for you. 
Jumeirah At Saadiyat Island Resort 
Positioned directly on one of the island's finest beaches, this 5 star hotel's rich earthy tones and minimalist décor blend in perfectly with its natural surroundings. A selection of restaurants offer guests a taste of Arabic and Levantine cuisine, with spectacular sunset backdrops. Other amenities range from a deluxe spa and three outdoor infinity pools to elegant private pool villas, as well as suites with floor‑to‑ceiling glass walls boasting incredible sea‑views and panoramas of the wildlife and natural beauty of the island. 
The hotel believes that guests should not have to compromise on luxury in their efforts to be kinder to the environment and is the first hotel in the Middle East to be awarded by The Oceanic Standard for its plastic‑free and sustainability initiatives. The collective aim is to be more eco‑conscious and keep the same standards as always for your stay in Abu Dhabi to remain unsurpassable.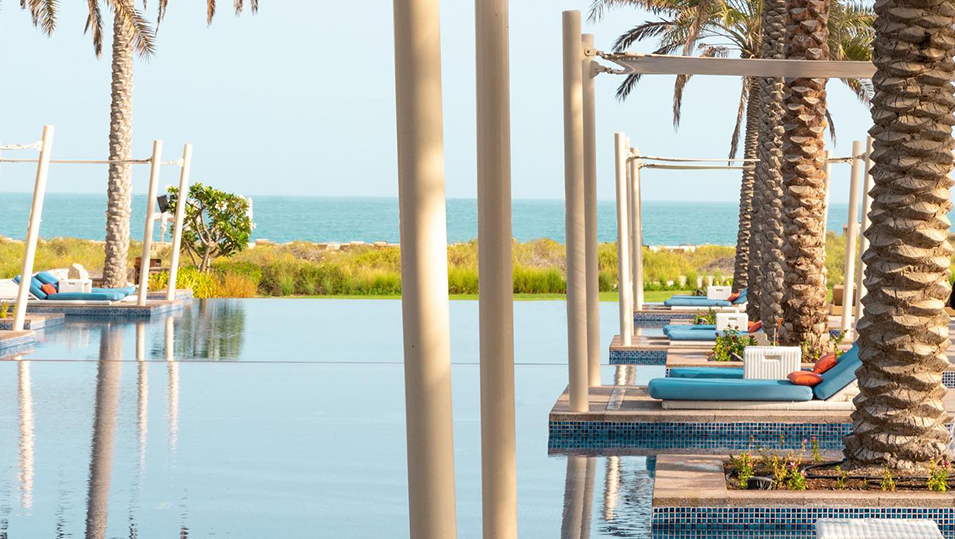 Park Hyatt Abu Dhabi Hotel And Villas 
This Saadiyat Island resort is an exclusive sanctuary of contemporary luxury with direct access to environmentally protected beach of Saadiyat Island, with 306 luxuriously appointed rooms, suites and villas to choose from. 
Park Hyatt Abu Dhabi Hotel and Villas boasts exceptional dining experiences from a selection of elegant restaurants, ranging from an Argentinian-Lebanese hotspot to a tea lounge to a steakhouse. Each of the restaurants at this stylish resort offer the best in personalized service from a team of well‑trained colleagues and spectacular and unobstructed views of the turquoise Arabian Gulf waters. 
If you're travelling with your little ones, try out Camp Hyatt, a special kids' clubhouse with a host of fun activities for the Island's mini guests. 
Rixos Premium Saadiyat Island 
Rixos Premium Saadiyat Island, the luxurious family getaway resort, is beautifully located by the ocean yet within touching distance of the city's main attractions. 
Considered to be one of the first fully-integrated all-inclusive hotels in Saadiyat Island, guests at this resort will experience premium service, from incredible entertainment to the blissful spa. 
When you book a stay at Rixos Premium, your experience will be curated by a Personal Lifestyle Manager who will ensure that every day at the resort is magical. 
Saadiyat Rotana Resort And Villas
The hotel's location puts you within easy walking distance of stunning natural beachfront beauty and wildlife, whilst only a convenient 15‑minute drive from the city. Guests will be in good company with regular visitors including Hawksbill Turtles, dolphins and gazelles. 
Saadiyat Rotana welcomes guests with effortless luxury across 327 rooms and suites, 13 beach villas, and a pristine white beach. 
Satiate your cravings at the resort's seven premium restaurants with cuisines from around the globe, including: Japanese, Italian, and Turkish to name a few. 
St. Regis Saadiyat Island Resort 
The St. Regis Saadiyat Island Resort is the perfect location to unwind and relax. Located in a private estate of the island, with a 9km eco‑protected, golden sandy beach and crystal‑clear waters. 
Respecting The St. Regis history and providing bespoke personalized experiences, The St. Regis Butler Service is the epitome of quintessential luxury provided to all guests. It conveniently merges with the island's natural beauty and is framed by the distinguished Saadiyat Beach Golf Course, an ideal destination for the discerning, well‑traveled connoisseur. 
Specially curated menus enhance the dining and nightlife experiences at Sontaya, Buddha Bar Beach Abu Dhabi, Olea, The Drawing Room, MAZI and The Manhattan Lounge; the resort's six distinctive restaurants. 
Nurai Island
This exclusive, private island is perfect if you're seeking complete privacy or looking for a hideaway. 
Residences here are ultra luxe – ranging from beach villas to pool houses to water villas. Whichever one you choose, you're in for an unforgettable sojourn, with breathtaking views. 
Regardless of your motives, if it's to relax or play, there's something for everyone. Enjoy every moment with a host of water activities available, ranging from day‑long fishing trips, to snorkelling and watersports, or even a wave machine for the little ones. 
The top hotels in Saadiyat Island each offer unmatched luxury, access to an award winning beach, and plenty of things to do. The best time to stay on the Island is undoubtedly during the winter months from October through to April – however if you opt to visit in summer you will also have access to amazing staycation deals. All that remains is for you to pick a hotel, pack your beachwear and get ready for a journey that will transform you!